Hawaiian Adventure
Tour, Escorted tour
Standard
Hawaiian Adventure
Embrace the spirit of "Aloha" on a leisurely 3-island tour of Hawaii featuring 3-night stays each in O'ahu, Big Island (Kona) and Maui. Remember Pearl Harbor and visit the USS Arizona Memorial. Take in the natural beauty of Hawai'i Volcanoes National Park on the Big Island. Admire the hula dance, an ancient Polynesian art form. Visit a coffee farm in Kona and learn about the coffee bean's journey from tree to cup. In Maui, visit the old royal capital of Lahaina where you can stroll through historic streets. Uncover the beauty, culture and traditions of all three islands.
May 16, 2024
through
May 25, 2024
Book by:
May 12, 2024 7:00 PM
Itinerary Map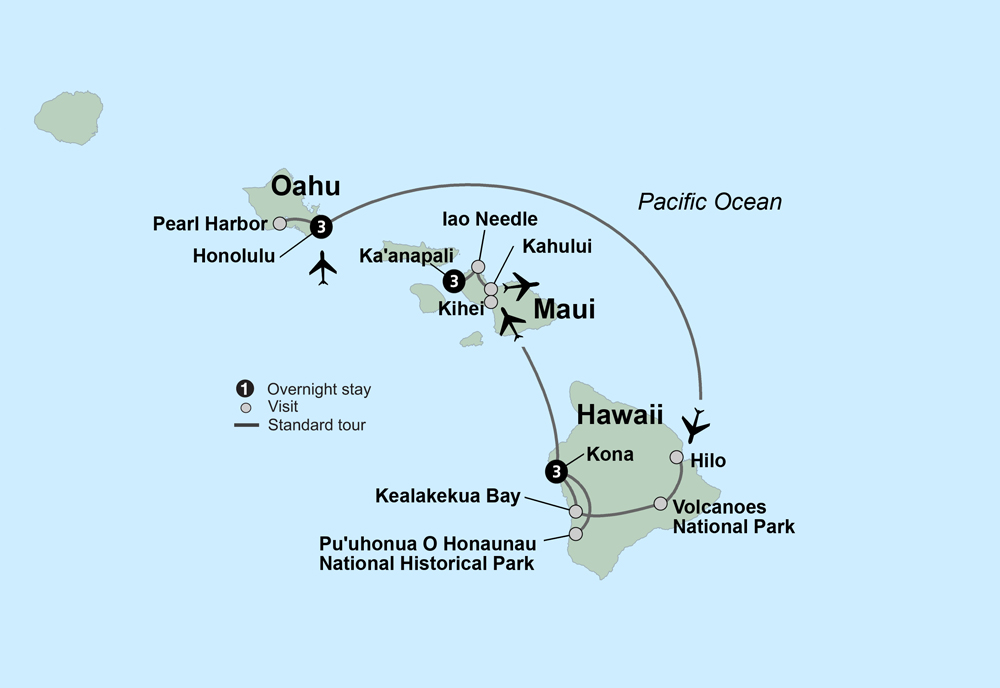 Loading Itinerary Content...
Additional
Offers

May 16, 2024

to

May 25, 2024

May 23, 2024

to

June 01, 2024

June 06, 2024

to

June 15, 2024

June 20, 2024

to

June 29, 2024

July 04, 2024

to

July 13, 2024

July 18, 2024

to

July 27, 2024

August 22, 2024

to

August 31, 2024

September 05, 2024

to

September 14, 2024

September 01, 2024

7:00 PM

September 12, 2024

to

September 21, 2024

September 08, 2024

7:00 PM

September 15, 2024

to

September 24, 2024

September 11, 2024

7:00 PM

September 19, 2024

to

September 28, 2024

September 15, 2024

7:00 PM

September 22, 2024

to

October 01, 2024

September 18, 2024

7:00 PM

September 26, 2024

to

October 05, 2024

September 22, 2024

7:00 PM

September 29, 2024

to

October 08, 2024

September 25, 2024

7:00 PM

October 03, 2024

to

October 12, 2024

September 29, 2024

7:00 PM

October 06, 2024

to

October 15, 2024

October 10, 2024

to

October 19, 2024

October 24, 2024

to

November 02, 2024

October 31, 2024

to

November 09, 2024

November 03, 2024

to

November 12, 2024

November 07, 2024

to

November 16, 2024

November 03, 2024

7:00 PM

December 05, 2024

to

December 14, 2024

December 01, 2024

7:00 PM

January 02, 2025

to

January 11, 2025

December 29, 2024

7:00 PM

January 05, 2025

to

January 14, 2025

January 12, 2025

to

January 21, 2025

January 19, 2025

to

January 28, 2025

January 23, 2025

to

February 01, 2025

January 26, 2025

to

February 04, 2025

January 30, 2025

to

February 08, 2025

February 02, 2025

to

February 11, 2025

February 06, 2025

to

February 15, 2025

February 02, 2025

7:00 PM

February 09, 2025

to

February 18, 2025

February 05, 2025

7:00 PM

February 13, 2025

to

February 22, 2025

February 09, 2025

7:00 PM

February 20, 2025

to

March 01, 2025

February 16, 2025

7:00 PM

February 23, 2025

to

March 04, 2025

February 19, 2025

7:00 PM

February 27, 2025

to

March 08, 2025

February 23, 2025

7:00 PM

March 06, 2025

to

March 15, 2025

March 09, 2025

to

March 18, 2025

March 20, 2025

to

March 29, 2025

March 23, 2025

to

April 01, 2025

March 27, 2025

to

April 05, 2025

April 06, 2025

to

April 15, 2025

April 10, 2025

to

April 19, 2025

April 17, 2025

to

April 26, 2025

April 24, 2025

to

May 03, 2025
Additional
Offers

May 16, 2024

May 25, 2024

May 23, 2024

June 01, 2024

June 06, 2024

June 15, 2024

June 20, 2024

June 29, 2024

July 04, 2024

July 13, 2024

July 18, 2024

July 27, 2024

August 22, 2024

August 31, 2024

September 05, 2024

September 14, 2024

September 12, 2024

September 21, 2024

September 15, 2024

September 24, 2024

September 19, 2024

September 28, 2024

September 22, 2024

October 01, 2024

September 26, 2024

October 05, 2024

September 29, 2024

October 08, 2024

October 03, 2024

October 12, 2024

October 06, 2024

October 15, 2024

October 10, 2024

October 19, 2024

October 24, 2024

November 02, 2024

October 31, 2024

November 09, 2024

November 03, 2024

November 12, 2024

November 07, 2024

November 16, 2024

December 05, 2024

December 14, 2024

January 02, 2025

January 11, 2025

January 05, 2025

January 14, 2025

January 12, 2025

January 21, 2025

January 19, 2025

January 28, 2025

January 23, 2025

February 01, 2025

January 26, 2025

February 04, 2025

January 30, 2025

February 08, 2025

February 02, 2025

February 11, 2025

February 06, 2025

February 15, 2025

February 09, 2025

February 18, 2025

February 13, 2025

February 22, 2025

February 20, 2025

March 01, 2025

February 23, 2025

March 04, 2025

February 27, 2025

March 08, 2025

March 06, 2025

March 15, 2025

March 09, 2025

March 18, 2025

March 20, 2025

March 29, 2025

March 23, 2025

April 01, 2025

March 27, 2025

April 05, 2025

April 06, 2025

April 15, 2025

April 10, 2025

April 19, 2025

April 17, 2025

April 26, 2025

April 24, 2025

May 03, 2025