The United Arab Emirates
The United Arab Emirates
With your own personal car, driver and guide throughout, our United Arab Emirates tour begins with an exciting Dubai vacation. Discover its 21st-century exuberance and rich heritage, and then embark on a thrilling adventure into the fabled Rub' al Khali Desert. Finish your journey at our luxury hotel in Abu Dhabi where extensive sightseeing includes the new Louvre Abu Dhabi.
May 08, 2023
through
August 22, 2023
Arrive Dubai - The Finest Hotels
Itinerary Map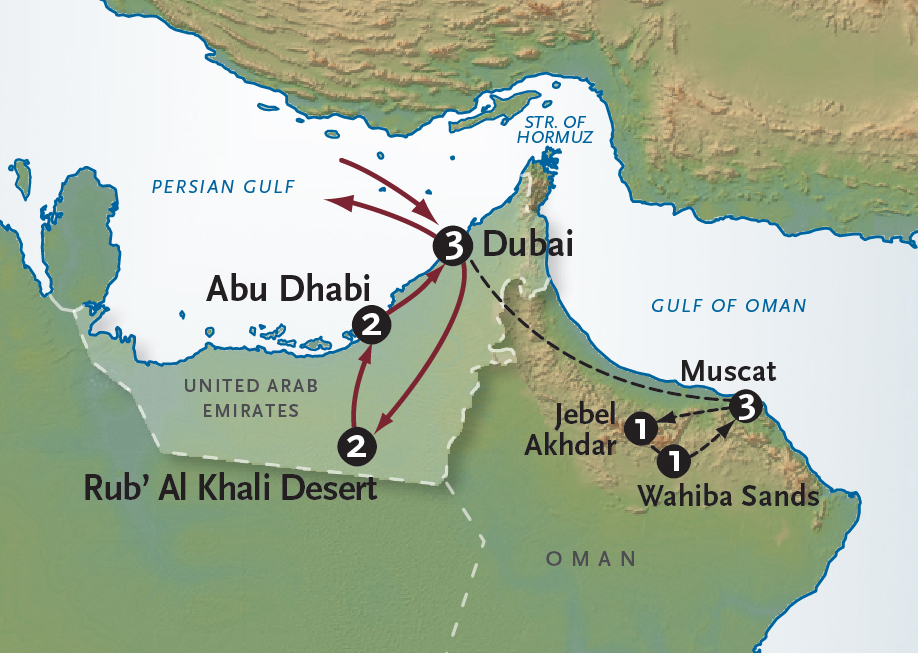 Our VIP Arrival Service in Dubai
Tailor your Stay in the Desert
City Tour + The New Louvre Abu Dhabi
Back to Dubai for Departure
Alexander+Roberts

The United Arab Emirates

Day 1: Our VIP Arrival Service in Dubai

On arrival at the airport, our exclusive VIP Arrival Service whisks you from the terminal to a comfortable lounge where you can relax while entry formalities are handled - and your checked luggage is retrieved and brought to you. Upon completion of immigration and customs, you'll be escorted by private car to the luxurious Taj Dubai in the heart of the city. The rest of this day is yours to relax and enjoy as you wish.

Day 2: Dubai Today

Less than 100 years ago, Dubai was a sleepy trading post known primarily for the pearl trade. But in just a few generations, it has morphed into a truly cosmopolitan global city, a major world transport hub, and a regional financial center. Its skyline is recognized around the world - and there's no better way to begin today's exploration than with the breathtaking views from the Observation Deck atop the Burj Khalifa. Designed by the American architectural firm of Skidmore, Owings and Merrill and soaring 2,722 feet, it's the world's tallest freestanding structure. At the Dubai Aquarium and Underwater Zoo, an innovative 160-foot long walk-through tunnel takes you 35 feet under water through a 2-million gallon aquarium; you'll have 270° views as thousands of marine animals including hundreds of sharks and rays swim all around you! Showcasing Dubai's 21st-century engineering and architectural wonders, your privately guided tour continues to the Dubai Marina and Palm Jumeirah - an astounding manmade archipelago in the Arabian Gulf and home to iconic landmarks like the soaring Atlantis Resort. Finish your guided sightseeing at Souk Madinat Jumeirah, an evocative re-imagining of an authentic Middle Eastern marketplace complete with winding streets, pillared arcades, merchant stalls and boutiques selling both high-end luxury goods and traditional artisan-made crafts. Tantalizing food stalls, street musicians and the ringing sounds of craftsmen at work complete this experience of an old world, Arabian bazaar. This evening enjoy dinner at abd al Wahab, one of our favorite local restaurants. Meals B+D

Day 3: Heritage of Dubai

For all its 21st-century exuberance which we showed you yesterday, Dubai is also a land of enduring cultural traditions... And today's sightseeing with your personal guide will plumb the unique facets of the city's ancient heritage. With penetrating insight from an Emirati citizen who will join you especially for today, your exploration begins at the Jumeirah Mosque. For the past 10 years, the Open Doors + Open Minds program of this landmark mosque has allowed non-Muslim guests to learn about Arab culture and religion in a casual, friendly and authentic setting. Continue to the Al Fahidi Historic District on Dubai Creek to explore its quiet labyrinthine streets and meandering narrow lanes, all lined with impressive sand-colored homes built a century ago by Persian merchants. Look up and you'll see graceful wind towers which were ingeniously designed to catch lofty breezes that could cool the entire house. Today, these historic buildings are home to museums, cafes, craft shops and galleries. Our unique heritage tour ends at the Sheikh Mohammed Center for Cultural Understanding. Here in this traditional wind-tower house, we'll sit down to a congenial lunch of authentic Emirati cuisine. Your engaging private guide and special local guest will be on hand to continue this morning's exploration into the culture, stories and daily life of Dubai. Later this afternoon, a relaxing cruise will offer a different perspective of the iconic landmarks of Dubai and the Palm Jumeirah. Relax onboard and take in the many impressive sites that grace this manmade archipelago and the shores of the Arabian Gulf - including the sprawling Madinat Jumeirah, the impressive Atlantis resort and of course the iconic, sail-like silhouette of the Burj Al Arab! Meals B+L

Day 4: Our Luxury Desert Resort

Leaving the glittering skyline of Dubai behind, this morning's privately chauffeured drive takes you deep into Rub' al Khali - the fabled Empty Quarter Desert. Uninterrupted by any tree or vegetation, rolling windswept dunes of fine khaki and orange-colored sand, sometimes soaring hundreds of feet high, stretch endlessly toward the cloudless horizon. Rising like a mirage in this vast silent landscape is the luxurious Anantara Qasr Al Sarab Desert Resort. On arrival, settle in to your spacious air-conditioned room with its captivating views of the desert, private terrace + garden, complimentary WiFi, and a sumptuous bath with oversized round soaking tub and rain shower. The balance of your afternoon and evening is free to experience the exceptional desert setting of Qasr Al Sarab. You might also lounge by the pool, indulge in a spa treatment or join one of the guided activities offered by the resort. Three dining venues offer a range of international cuisines including Middle Eastern, Mediterranean and a fine steakhouse. Meals B

Day 5: Tailor your Stay in the Desert

"It was very still with the silence we have driven from our world." So wrote the British explorer Sir Wilfred Thesiger as he sat atop a dune here in Rub' al Khali. It's been 70 years since he made that observation, but little has changed in the Empty Quarter. And today you'll have a chance to tailor your desert exploration to your personal tastes and love of adventure. Our resort offers a variety of expertly-guided small group expeditions and excursions - and you can choose one of these to enjoy with our compliments: + Desert Walk: With a variety of terrains and routes available near our resort, this guided nature expedition can be tailored to your taste for physical challenge. Sunrise and sunset are the best times to experience the majestic beauty of the desert. Along the way, your expert guide will share great insight into the history, culture and animals of the Empty Quarter. + Sunset Camel Trek: As the sun dips towards the horizon and desert shadows begin to lengthen, this small-group adventure offers a genuine experience of the desert's silent beauty. + Falcon and Saluki Show: The ancient sport of falconry and hunting with Salukis are ancient time-honored traditions in the United Arab Emirates. In addition to observing first hand and learning about the skill and grace of these creatures, you'll engage with local residents for an authentic cultural experience. + Dune Bashing: Thrill seekers will love this action-packed 4x4 expedition! Setting out in the early morning or late afternoon, skilled professional drivers will take you across the desert dunes for an unforgettable adventure.

Day 6: Onward to Abu Dhabi

After an early breakfast, journey through the desert to Abu Dhabi where you'll check in to the luxurious Anantara Eastern Mangroves Hotel and Spa. Then join your guide to visit the unique Falcon Hospital which provides critical care for up to 200 of these amazing birds of prey. Learn about the enduring importance of falconry in the local culture and watch as these birds are treated by specialist veterinarians and skilled technicians - including pedicurists who care for the birds' sharp talons! A flying demonstration by healthy falcons reveals their extraordinary grace and power. As you continue your privately guided sightseeing, you'll be spellbound by the new additions to Abu Dhabi's glittering skyline and the Sheikh Zayed Grand Mosque. Visible from all of the bridges that connect Abu Dhabi with the mainland, this is one of the world's largest mosques - topped with 80 white marble domes that are supported by 1,000 pillars and punctuated by graceful 350-foot tall minarets. In the heart of the city, Union Square will fascinate you with its unusual sculptural landmarks inspired by the rich customs and traditions of the United Arab Emirates. Continue along the lovely waterfront Corniche and finish your sightseeing at the city's liveliest markets. Hidden among the fruit and vegetable vendors at Port Zayed, Abu Dhabi's Date Market is a bustling alley where merchants specialize in the remarkable variety of dried fruits and dates popular throughout the Middle East; don't' be surprised if you are invited to sample some of these tempting treats! Not far away, the Fish Market is filled with freshly caught seafood brought in that day by the city's fleet of dhows. Other businesses specialize in cleaning and preparing the fish to their customer's exact tastes - grilled, fried, or seared! Meals B

Day 7: City Tour + The New Louvre Abu Dhabi

With your personal guide, today's tour plumbs the old and new facets of this vibrant desert city. You'll begin at Qasr Al Hosn; this is the symbolic birthplace of the Emirate and traces its origins to the middle of the 18th century when Bani Yas tribesmen built a simple coral and stone watch tower to protect their settlement and coastal trade routes. Later, succeeding generations of the ruling Al Nahayan family added imposing walls, towers, entrances and residential quarters - transforming Qasr Al Hosn into an impressive fort and finally the iconic palace it is today. On-site exhibits tell the fascinating story of Abu Dhabi and its people through the evolution of the city's oldest building. Newly opened to visitors in 2019, Abu Dhabi's Presidential Palace is next on the day's itinerary. Inside the Palace complex, you'll visit Qasr Al Watan. Also known as the Palace of Nations, this glorious landmark pays homage to the region's heritage and design - with soaring white domes, lovely Arabian gardens, a vast marble-inlaid courtyard and the Great Hall - sumptuously decorated using white, yellow and blue to symbolize the landscapes of the UAE. Inside there are also exhibits celebrating the region's customs and traditions. Today's sightseeing also includes the newly-opened Louvre Abu Dhabi, set in a striking waterfront building designed by the accomplished French architect Jean Nouvel. This is a ground-breaking cultural partnership with the Louvre in Paris and includes the sharing of artwork and important temporary exhibitions that will range from the ancient world to the modern era. You'll finish your sightseeing on a high note at the Jumeirah Etihad Towers Observation Deck. On the 74th floor nearly 1,000 feet in the air, you'll enjoy High Tea and spectacular views of the city. Meals B

Day 8: Back to Dubai for Departure

You'll be escorted to the Dubai Airport for your onward journey. Meals B

Day 1: Our VIP Arrival Service in Dubai

On arrival at the airport, our exclusive VIP Arrival Service whisks you from the terminal to a comfortable lounge where you can relax while entry formalities are handled - and your checked luggage is retrieved and brought to you. Upon completion of immigration and customs, you'll be escorted by private car to the luxurious Taj Dubai in the heart of the city. The rest of this day is yours to relax and enjoy as you wish.

Day 2: Dubai Today

Less than 100 years ago, Dubai was a sleepy trading post known primarily for the pearl trade. But in just a few generations, it has morphed into a truly cosmopolitan global city, a major world transport hub, and a regional financial center. Its skyline is recognized around the world - and there's no better way to begin today's exploration than with the breathtaking views from the Observation Deck atop the Burj Khalifa. Designed by the American architectural firm of Skidmore, Owings and Merrill and soaring 2,722 feet, it's the world's tallest freestanding structure. At the Dubai Aquarium and Underwater Zoo, an innovative 160-foot long walk-through tunnel takes you 35 feet under water through a 2-million gallon aquarium; you'll have 270° views as thousands of marine animals including hundreds of sharks and rays swim all around you! Showcasing Dubai's 21st-century engineering and architectural wonders, your privately guided tour continues to the Dubai Marina and Palm Jumeirah - an astounding manmade archipelago in the Arabian Gulf and home to iconic landmarks like the soaring Atlantis Resort. Finish your guided sightseeing at Souk Madinat Jumeirah, an evocative re-imagining of an authentic Middle Eastern marketplace complete with winding streets, pillared arcades, merchant stalls and boutiques selling both high-end luxury goods and traditional artisan-made crafts. Tantalizing food stalls, street musicians and the ringing sounds of craftsmen at work complete this experience of an old world, Arabian bazaar. This evening enjoy dinner at abd al Wahab, one of our favorite local restaurants. Meals B+D

Day 3: Heritage of Dubai

For all its 21st-century exuberance which we showed you yesterday, Dubai is also a land of enduring cultural traditions... And today's sightseeing with your personal guide will plumb the unique facets of the city's ancient heritage. With penetrating insight from an Emirati citizen who will join you especially for today, your exploration begins at the Jumeirah Mosque. For the past 10 years, the Open Doors + Open Minds program of this landmark mosque has allowed non-Muslim guests to learn about Arab culture and religion in a casual, friendly and authentic setting. Continue to the Al Fahidi Historic District on Dubai Creek to explore its quiet labyrinthine streets and meandering narrow lanes, all lined with impressive sand-colored homes built a century ago by Persian merchants. Look up and you'll see graceful wind towers which were ingeniously designed to catch lofty breezes that could cool the entire house. Today, these historic buildings are home to museums, cafes, craft shops and galleries. Our unique heritage tour ends at the Sheikh Mohammed Center for Cultural Understanding. Here in this traditional wind-tower house, we'll sit down to a congenial lunch of authentic Emirati cuisine. Your engaging private guide and special local guest will be on hand to continue this morning's exploration into the culture, stories and daily life of Dubai. Later this afternoon, a relaxing cruise will offer a different perspective of the iconic landmarks of Dubai and the Palm Jumeirah. Relax onboard and take in the many impressive sites that grace this manmade archipelago and the shores of the Arabian Gulf - including the sprawling Madinat Jumeirah, the impressive Atlantis resort and of course the iconic, sail-like silhouette of the Burj Al Arab! Meals B+L

Day 4: Our Luxury Desert Resort

Leaving the glittering skyline of Dubai behind, this morning's privately chauffeured drive takes you deep into Rub' al Khali - the fabled Empty Quarter Desert. Uninterrupted by any tree or vegetation, rolling windswept dunes of fine khaki and orange-colored sand, sometimes soaring hundreds of feet high, stretch endlessly toward the cloudless horizon. Rising like a mirage in this vast silent landscape is the luxurious Anantara Qasr Al Sarab Desert Resort. On arrival, settle in to your spacious air-conditioned room with its captivating views of the desert, private terrace + garden, complimentary WiFi, and a sumptuous bath with oversized round soaking tub and rain shower. The balance of your afternoon and evening is free to experience the exceptional desert setting of Qasr Al Sarab. You might also lounge by the pool, indulge in a spa treatment or join one of the guided activities offered by the resort. Three dining venues offer a range of international cuisines including Middle Eastern, Mediterranean and a fine steakhouse. Meals B

Day 5: Tailor your Stay in the Desert

"It was very still with the silence we have driven from our world." So wrote the British explorer Sir Wilfred Thesiger as he sat atop a dune here in Rub' al Khali. It's been 70 years since he made that observation, but little has changed in the Empty Quarter. And today you'll have a chance to tailor your desert exploration to your personal tastes and love of adventure. Our resort offers a variety of expertly-guided small group expeditions and excursions - and you can choose one of these to enjoy with our compliments: + Desert Walk: With a variety of terrains and routes available near our resort, this guided nature expedition can be tailored to your taste for physical challenge. Sunrise and sunset are the best times to experience the majestic beauty of the desert. Along the way, your expert guide will share great insight into the history, culture and animals of the Empty Quarter. + Sunset Camel Trek: As the sun dips towards the horizon and desert shadows begin to lengthen, this small-group adventure offers a genuine experience of the desert's silent beauty. + Falcon and Saluki Show: The ancient sport of falconry and hunting with Salukis are ancient time-honored traditions in the United Arab Emirates. In addition to observing first hand and learning about the skill and grace of these creatures, you'll engage with local residents for an authentic cultural experience. + Dune Bashing: Thrill seekers will love this action-packed 4x4 expedition! Setting out in the early morning or late afternoon, skilled professional drivers will take you across the desert dunes for an unforgettable adventure.

Day 6: Onward to Abu Dhabi

After an early breakfast, journey through the desert to Abu Dhabi where you'll check in to the luxurious Anantara Eastern Mangroves Hotel and Spa. Then join your guide to visit the unique Falcon Hospital which provides critical care for up to 200 of these amazing birds of prey. Learn about the enduring importance of falconry in the local culture and watch as these birds are treated by specialist veterinarians and skilled technicians - including pedicurists who care for the birds' sharp talons! A flying demonstration by healthy falcons reveals their extraordinary grace and power. As you continue your privately guided sightseeing, you'll be spellbound by the new additions to Abu Dhabi's glittering skyline and the Sheikh Zayed Grand Mosque. Visible from all of the bridges that connect Abu Dhabi with the mainland, this is one of the world's largest mosques - topped with 80 white marble domes that are supported by 1,000 pillars and punctuated by graceful 350-foot tall minarets. In the heart of the city, Union Square will fascinate you with its unusual sculptural landmarks inspired by the rich customs and traditions of the United Arab Emirates. Continue along the lovely waterfront Corniche and finish your sightseeing at the city's liveliest markets. Hidden among the fruit and vegetable vendors at Port Zayed, Abu Dhabi's Date Market is a bustling alley where merchants specialize in the remarkable variety of dried fruits and dates popular throughout the Middle East; don't' be surprised if you are invited to sample some of these tempting treats! Not far away, the Fish Market is filled with freshly caught seafood brought in that day by the city's fleet of dhows. Other businesses specialize in cleaning and preparing the fish to their customer's exact tastes - grilled, fried, or seared! Meals B

Day 7: City Tour + The New Louvre Abu Dhabi

With your personal guide, today's tour plumbs the old and new facets of this vibrant desert city. You'll begin at Qasr Al Hosn; this is the symbolic birthplace of the Emirate and traces its origins to the middle of the 18th century when Bani Yas tribesmen built a simple coral and stone watch tower to protect their settlement and coastal trade routes. Later, succeeding generations of the ruling Al Nahayan family added imposing walls, towers, entrances and residential quarters - transforming Qasr Al Hosn into an impressive fort and finally the iconic palace it is today. On-site exhibits tell the fascinating story of Abu Dhabi and its people through the evolution of the city's oldest building. Newly opened to visitors in 2019, Abu Dhabi's Presidential Palace is next on the day's itinerary. Inside the Palace complex, you'll visit Qasr Al Watan. Also known as the Palace of Nations, this glorious landmark pays homage to the region's heritage and design - with soaring white domes, lovely Arabian gardens, a vast marble-inlaid courtyard and the Great Hall - sumptuously decorated using white, yellow and blue to symbolize the landscapes of the UAE. Inside there are also exhibits celebrating the region's customs and traditions. Today's sightseeing also includes the newly-opened Louvre Abu Dhabi, set in a striking waterfront building designed by the accomplished French architect Jean Nouvel. This is a ground-breaking cultural partnership with the Louvre in Paris and includes the sharing of artwork and important temporary exhibitions that will range from the ancient world to the modern era. You'll finish your sightseeing on a high note at the Jumeirah Etihad Towers Observation Deck. On the 74th floor nearly 1,000 feet in the air, you'll enjoy High Tea and spectacular views of the city. Meals B

Day 8: Back to Dubai for Departure

You'll be escorted to the Dubai Airport for your onward journey. Meals B


Additional
Offers

May 08, 2023

to

August 22, 2023

September 25, 2022

to

December 24, 2022

Arrive Dubai - The Finest Hotels

January 01, 2023

to

January 04, 2023

January 05, 2023

to

January 15, 2023

January 16, 2023

to

January 21, 2023

January 22, 2023

to

January 28, 2023

January 29, 2023

to

February 18, 2023

February 19, 2023

to

February 25, 2023

February 26, 2023

to

March 27, 2023

March 28, 2023

to

April 03, 2023

April 04, 2023

to

April 13, 2023

April 14, 2023

to

April 20, 2023

April 21, 2023

to

April 30, 2023

May 01, 2023

to

May 07, 2023

August 23, 2023

to

August 29, 2023

August 30, 2023

to

September 17, 2023

September 18, 2023

to

September 24, 2023

September 25, 2023

to

September 30, 2023

October 01, 2023

to

October 16, 2023

October 17, 2023

to

October 23, 2023

October 24, 2023

to

October 30, 2023

October 31, 2023

to

November 02, 2023

November 03, 2023

to

November 09, 2023

November 10, 2023

to

November 17, 2023

November 18, 2023

to

November 24, 2023

November 25, 2023

to

December 01, 2023

December 02, 2023

to

December 09, 2023

December 10, 2023

to

December 16, 2023

December 17, 2023

to

December 21, 2023

December 22, 2023

to

December 28, 2023

December 29, 2023

to

January 04, 2024

January 05, 2024

to

January 08, 2024

January 09, 2024

to

January 15, 2024

January 16, 2024

to

January 21, 2024

January 22, 2024

to

January 28, 2024

January 29, 2024

to

February 18, 2024

February 19, 2024

to

February 25, 2024

February 26, 2024

to

March 26, 2024

March 27, 2024

to

April 02, 2024

April 03, 2024

to

April 12, 2024

April 13, 2024

to

April 19, 2024

April 20, 2024

to

April 30, 2024
Additional
Offers

May 08, 2023

August 22, 2023

September 25, 2022

December 24, 2022

January 01, 2023

January 04, 2023

January 05, 2023

January 15, 2023

January 16, 2023

January 21, 2023

January 22, 2023

January 28, 2023

January 29, 2023

February 18, 2023

February 19, 2023

February 25, 2023

February 26, 2023

March 27, 2023

March 28, 2023

April 03, 2023

April 04, 2023

April 13, 2023

April 14, 2023

April 20, 2023

April 21, 2023

April 30, 2023

May 01, 2023

May 07, 2023

August 23, 2023

August 29, 2023

August 30, 2023

September 17, 2023

September 18, 2023

September 24, 2023

September 25, 2023

September 30, 2023

October 01, 2023

October 16, 2023

October 17, 2023

October 23, 2023

October 24, 2023

October 30, 2023

October 31, 2023

November 02, 2023

November 03, 2023

November 09, 2023

November 10, 2023

November 17, 2023

November 18, 2023

November 24, 2023

November 25, 2023

December 01, 2023

December 02, 2023

December 09, 2023

December 10, 2023

December 16, 2023

December 17, 2023

December 21, 2023

December 22, 2023

December 28, 2023

December 29, 2023

January 04, 2024

January 05, 2024

January 08, 2024

January 09, 2024

January 15, 2024

January 16, 2024

January 21, 2024

January 22, 2024

January 28, 2024

January 29, 2024

February 18, 2024

February 19, 2024

February 25, 2024

February 26, 2024

March 26, 2024

March 27, 2024

April 02, 2024

April 03, 2024

April 12, 2024

April 13, 2024

April 19, 2024

April 20, 2024

April 30, 2024
Journeys Without a Crowd
Our 74 Years of Experience
As you